Thousands March for Public Education in Boston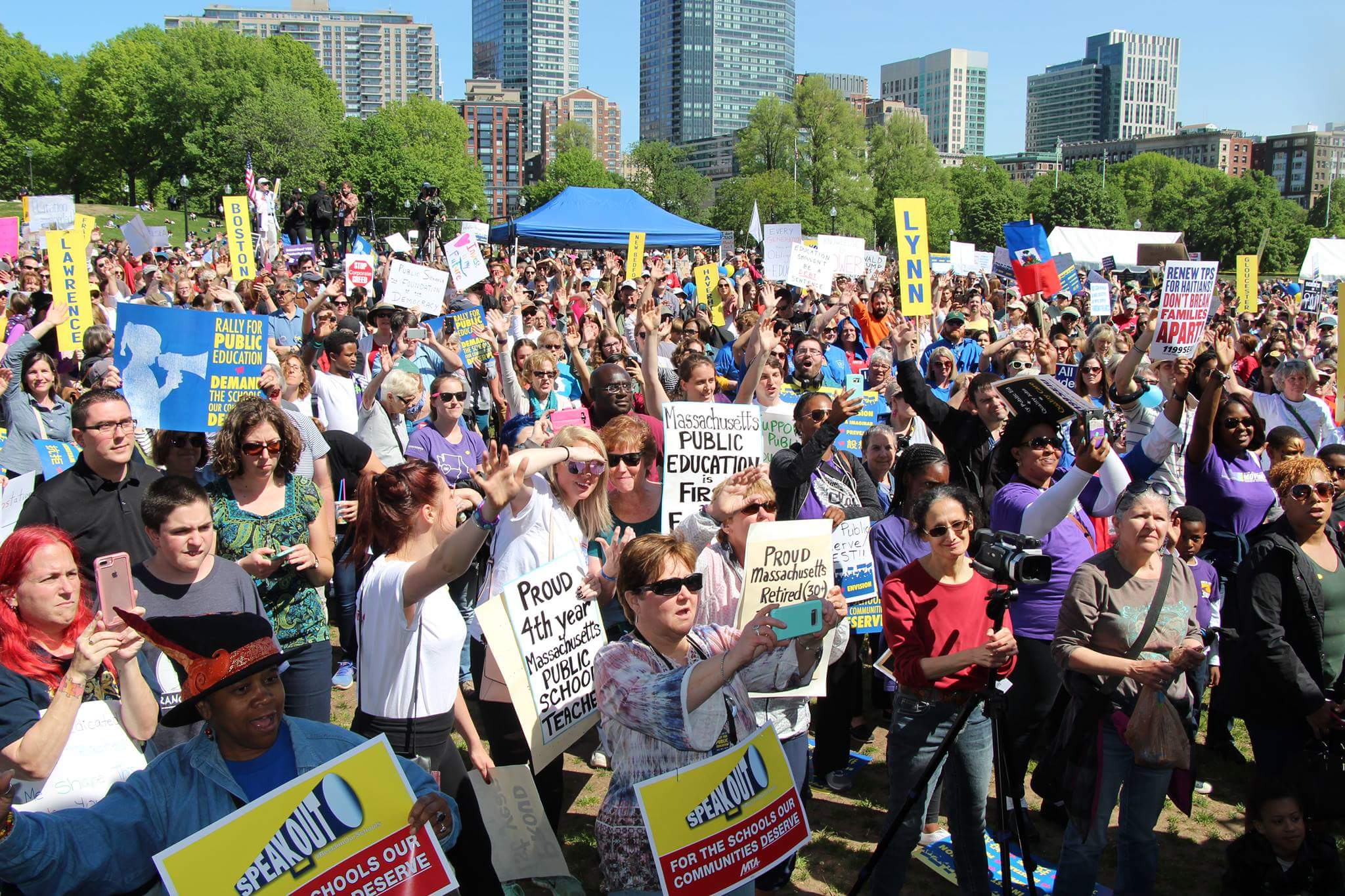 News of Trump's massive education budget cuts galvanizes support as thousands call for well-funded schools, debt-free public college and an end to attacks on public education
Roughly 4,000 Massachusetts parents, educators and students rallied at Boston Common in a call to defend public education, chanting, "Whose schools? Our schools" and "When we fight! We win!" Participants demanded full funding for public education, pre-K through college, debt-free public higher education, less testing and more learning, and equitable access to quality education for all students.
"November's election awakened a sleeping giant," said Barbara Madeloni, president of the 110,000-member Massachusetts Teachers Association. "People who have never marched or spoken out publicly are getting organized. And as outrage grows over the latest Trump-DeVos attack on our schools, so will our movement to defend public education and our shared values."
The march gained momentum this week as details of Trump's education budget leaked. Trump's plan would shift $10.6 billion away from public schools and low- and middle-income students, in favor of voucher programs and other privatization schemes. It includes huge cuts to essential public education programs that create opportunity for American students, including college work-study programs, public-service student loan forgiveness, mental health services, advanced coursework, arts and foreign language education, and after-school programs.
"We know that when parents, students and teachers fight together we win," Jessica Tang, incoming president of the Boston Teachers Union, told the crowd to resounding applause. Last year, Massachusetts voters overwhelmingly rejected Question 2 that would have drained hundreds of millions of dollars from our public schools. The message was clear: Bay State families want well-funded, quality public schools for all, not the privatization that rich special interests advocated.
"We are all here for the same reason: to demand that public education be public, free, and equitable for ALL, no matter who they are, who they love, and from where they come." Miriam Fusco, Lynn educator and member of the Lynn Teachers Union.
Parents, students and educators are standing together again to resist an unprecedented assault on public education. Since the November election, hundreds of thousands have marched in Boston and across the state, from the Women's March to rallies against the failed Muslim ban and Trump's anti-science agenda. The Rally for Public Education continues this movement bringing its values to the fight for well-funded public schools in every community and debt-free public college for every student.
"Students should never leave a public college tens of thousands in debt, just to get the education they need to get ahead," Amy Blanchette, a single parent and student at Bristol Community College. She spoke of the various challenges her family faces—from a community ravaged by opioid addiction and underinvestment, to the pressure of high-stakes testing in her young son's classroom. She was joined by thousands who shared her concerns for the future of public education and the pathway to a better life that it provides, as well as her resolve to fight for it.
Massachusetts is consistently rated among the top states in the nation for public education. Still, years of uneven investment and underinvestment has left the promise of great public schools and debt-free public higher education out of reach for too many Bay State families. According to the nonpartisan Foundation Budget Review Commission, Massachusetts public schools are underfunded by about $1 billion a year. At the same time, tuition and fees have doubled at Massachusetts public colleges and universities since 2001, and more of the financial burden falls on students, who increasingly find themselves in student loan debt.
Item coverage
Lynn teacher joins the march