An education bill filed on January 20, 2023, has the potential to transform the educational landscape for generations to come, bettering the lives of students and harnessing the knowledge and assets of local communities to improve schools, according to AFT Massachusetts President Beth Kontos and other education leaders. 
The bill, An Act Empowering Students and Schools To Thrive (or the Thrive Act, for short), would equip local communities with the tools and resources that students and schools need to succeed, and dramatically reduce the harm caused by the high-stakes, punitive use of standardized tests, such as state takeovers and denying students high school diplomas.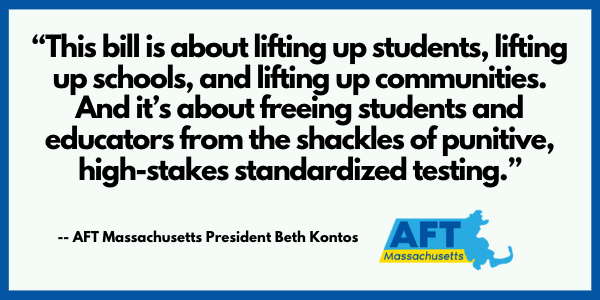 "This bill is about lifting up students, lifting up schools, and lifting up communities," says Kontos. "And it's about freeing students and educators from the shackles of punitive, high-stakes standardized testing."
Specifically, the bill would:
End the state's harmful, failed, and undemocratic practice of taking over entire school districts based on low MCAS scores.
Provide real help to high-need schools by eliminating the state's failed and punitive state intervention/takeover system and replacing it with a more democratic and locally driven process for supporting schools and students.
Establish a modified high school graduation requirement in which coursework as certified by the student's district would replace the MCAS as the basis for showing student mastery of the skills, competencies, and knowledge required by the state standards.
Create a special commission with a range of education stakeholders to shape a positive future vision for student/school assessment that is authentic, equitable, and focused on supporting the whole child.
A more detailed summary prepared by AFT Massachusetts can be found here. The full bill can be found here.
Reps. James Hawkins and Sam Montaño are the lead sponsors in the House, and Sens. Jo Comerford, Adam Gomez, and Liz Miranda are the lead sponsors in the Senate. Several other legislators have already signed on as co-sponsors, and bill supporters hope to add more co-sponsors in the coming weeks. 
The bill was shaped with substantial input from AFT Massachusetts, the Massachusetts Teachers Association, Citizens for Public Schools, and many other organizations affiliated with the Massachusetts Education Justice Alliance (MEJA). All MEJA-affiliated groups have agreed to make the bill a major legislative priority during the current legislative session. 
Over the coming months, AFT Massachusetts will work with coalition allies to develop and implement a comprehensive advocacy campaign in support of the bill. AFT Massachusetts members will be central to that effort. Information about ways to get involved in the campaign will be shared soon with AFT Massachusetts locals and members. 
"It will be all hands on deck," says Kontos. "This is a special opportunity to put our imprint on education for years to come—to move from a deficit model of test and punish to an asset-based model of resources and support. And to a model that supports the whole child—all facets of learning and growth. We must seize the moment and work strenuously in partnership with our allies to make this bill a reality." 
Click Here to use our advocacy tool to email your state senator and state representative to ask them to co-sponsor An Act Empowering Students and Schools to Thrive.